About Kitty Haas
My name is Kitty Haas. I am a very old lady and I just turned 92.
You will wonder why I am doing this website. After reading my story you will know I don't want anybody to get this nasty disease, glaucoma. If we can prevent anybody from getting it it will be worth it.
I grew up in Vienna, Austria. As a very young child I spent a summer in Hungary and got a bad sunburn. Sunburns should be avoided as they could increase chances of glaucoma or even skin cancer. I spent most of my time outdoors. In the winter it was very easy to go skiing. You just had to take your skis on the trolley car, get off at the last stop and you could ski to your heart's content in the Vienna Woods.
I spent my summers on rivers and lakes and my winters on the ski slopes. Despite the glare of the water and snow I did not wear sunglasses. This was a big mistake as the right UV glasses, especially in young people, can prevent glaucoma. When I came to the United States I went skiing as often as I could and in the summer I had a little sailboat called the Jolly Roger. Again I did not wear sunglasses and nobody ever suggested I should wear them.
I tried to stay healthy.
At my annual eye exams it was found I had glaucoma. I have no family history of glaucoma.
I had to use eye drops and sometimes I was allergic to them and new ones had to be tried. Soon the drops did not work alone and I had to have an operation to have stents put in my eyes, to no avail. Next the laser treatment did not work. Finally another operation had to be done. I still have to use eye drops.
I am very lucky to live where I can get proper treatment. If not taken care of glaucoma can lead to blindness! The Eye and Ear Infirmary in Boston is one of the best hospitals in the world for treatment. I am so fortunate to have the head of the glaucoma service as my doctor, Dr. Pasquale. But it would have been better if I had not gotten the illness in the first place.
I also want to thank Dr. Louis Pasquale, Dr. Amos Deinard, and Susan Metoxen for making this website possible.
I hope this website will show how to prevent glaucoma. It can be done!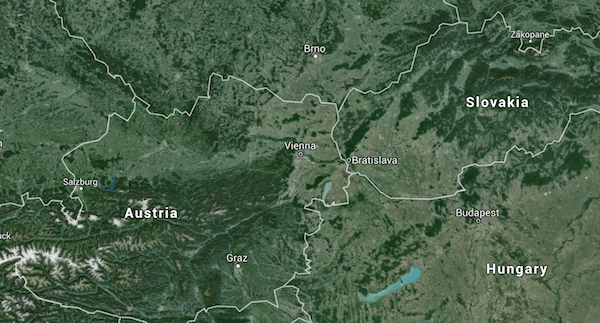 Map showing where Vienna is in Austria.
---
Copyright:
yarruta / 123RF Stock Photo
Copyright:
glopphy / 123RF Stock Photo