Learn about Glaucoma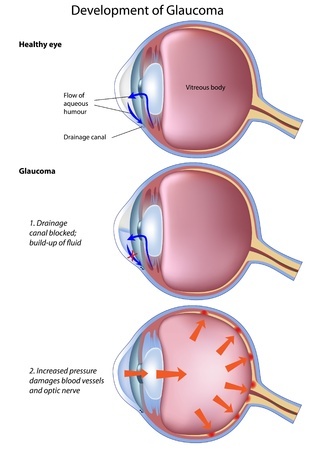 Glaucoma is a serious disease of the eye. It is also called "the silent thief of sight". There are usually no symptoms. If not treated Glaucoma can result in blindness.
In a healthy eye there is a constant circulation of a clear fluid. In Glaucoma the exit pathways are slowed or blocked causing a pressure build-up and damage to the optic nerve. The optic nerve serves to connect and signal the brain giving our sight. Optic nerve damage unfortunately is not reversible.
It is important to have an eye examination starting at age 40; preferably yearly.
There are quite a number of different kinds of Glaucoma, usually without symptoms. The most common form of Glaucoma in the United States is Primary Open-Angle Glaucoma (POAG). You are of  higher risk of  primary open angle glaucoma(POAG) if:
You have a family member with the disease
You are over 60
You are black
Another common form of open-angle glaucoma in the USA and throughout the world is exfoliation glaucoma (XFG). In exfoliation glaucoma (XFG) there is no additional risk if a family member has the disease but important additional risk factors include:
Spending outdoors without appropriate UV sunglasses,specially in snow and on water.
Not eating enough leafy green vegetables (salad greens).
Drinking more than 5 cups of coffee a day
Diabetes, chronic steroid use, obesity, high blood pressure and a sedentary life style can also contribute to Glaucoma.
Treatments for Glaucoma include: eye drops, laser treatment or surgery. The good news is that Exfoliated Glaucoma could be prevented by wearing UV protecting sunglasses when young. The glare from sun on water and snow is especially dangerous from age 15 - 24. So, wear UV protecting glasses.
WEARING UV SUNGLASSES IS A SIMPLE AND PRACTICAL WAY TO TRY TO PREVENT THIS NASTY DISEASE!